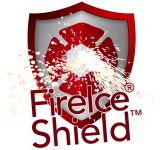 Davis Interiors is proud to announce we are now selling the incredible product, FireIce Shield.
FireIce Shield is the ultimate defense for surfaces affected by heat-related damage and blocking heat transfer. Shield protects adjacent surfaces while soldering, welding, and brazing while also reducing the risk of accidental charring, burning, or igniting flammable materials up to 10,000° F. Its versatility makes it perfect for use in plumbing, the automotive industry, and installing HVAC valves.
Shield is ideal for use on metal pipes as a barrier to heat transfer, especially for valves, seals, and between contact points. Additionally, it effectively prevents discoloration and distortion of lightweight metals, and protects closely soldered parts. Shield also protects surfaces like wood, sheetrock, wires, insulation, and painted or finished surfaces including painted metal, plastic, cloth, and vinyl from direct and radiant heat.
FireIce Shield is designed for plumbing, soldering, hot work, pipe fitting, automotive, welding, and brazing.
Davis Interiors will be hosting a free demonstration to showcase FireIce on February 23rd in our warehouse, from 11am to 1pm. Lunch will also be provided. (3300 Azalea Garden Rd. Norfolk, VA).
We invite all trades and contractors to come witness what this product can do.
We will be lighting any and everything on fire, including ourselves!!! This product is life saving and life changing and we are so excited to be a part of it. There is no product out there that has the same capabilities of preventing and protecting yourself and your belongings from fire.
FireIce is non-toxic and non-corrosive.