Interior Design
Davis Interiors, Ltd. offers commercial interior design and furnishings.  We create a stylish, welcoming, and functional space for your customers and employees to enjoy. We have transformed many office spaces, waiting rooms, and more in the Hampton Roads area.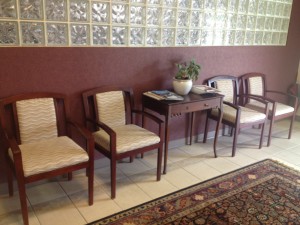 Repair and Upholstery
Our large collection of Naugahyde® is ideal for many upholstery needs. We reupholster and repair a variety of items, including chiropractic tables, medical exam tables, restaurant seating, and boat interiors.
Custom Made Furniture
Additionally, we design and manufacture custom made furniture. Our custom made furniture is made with durable base materials, such as aluminum, to last longer in high traffic areas. We can coat, upholster, or provide custom slip covers for your furniture to meet your aesthetic needs.
Window Treatments
Solar shades, roman shades, and cellular shades are  a modern way to dress up your windows. Not only do these shades provide privacy, but protect your interiors from the harmful effects of the sun.
Privacy Curtains
Our cubicle and privacy curtains can be made to the exact style and specifications you want. Choose from a diverse collection of patterns and colorways, or work with our sales consultants to develop a cubicle curtain solution.
An Economical Decision
We know that buying new equipment isn't an option for every office. New upholstery is an economical way to have your old furniture looking like new. And with over half a century of experience and the highest quality materials, Davis Interiors, Ltd. can have it looking better than ever.
Trusted Quality and Experience
Whatever your need, we have an extensive inventory of stylish, current fabrics to choose from. Our experienced design staff is available to help you select the ideal materials for your project.
Contact us online today or call us at 757-853-0968 to see what we can do for you.